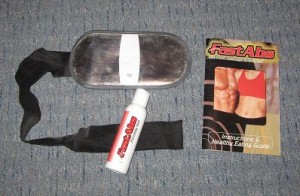 We've all been hoodwinked at one time or another, whether by a salesperson who misrepresented his product in way we wanted to hear or by a politician who employed smooth or smart-sounding speeches that only ended up seeming so before she was elected. It's embarrassing to admit it (am I really about to spill the beans?), but one of my oopsy-dupes was being convinced into buying Fast-Abs.
Oh the shame (at least it occurred in my pre-doctor days)! Fast-Abs is a bottle of electrically conductive gel and a flexible metal plate connected to a battery. You put the gel on your potential abs (if mine even qualified as that), put the plate on the gel, flip the switch, and supposedly build muscle by the effortless involuntary contractions that result. To be fair, Fast-Abs did produce some pretty gut-wrenching contractions, and passively contracting muscle is still contracting muscle, but I should have known by the myriad encouragements to regularly workout in the Fast-Abs manual that it was not going to be Fast-Abs giving me Fast-Abs. That and my abs are still, well, potential.
I fell prey to a misrepresentative assertion, and I'm not alone. We all get fooled into believing a lot of things through bad arguments, so when I stumbled across this free, online, engagingly illustrated book of bad arguments, I thought it'd be entertaining to share. In writing Healing Hereafter, my goal was to make my assertions in the most honest, objective, and helpful ways, and I expressly avoided these "techniques" used to by many to fool you. But hey, I promise if you expose one I missed, I'll spring my Fast-Abs into action to keep you from being exploited! Have a happy, healing weekend!