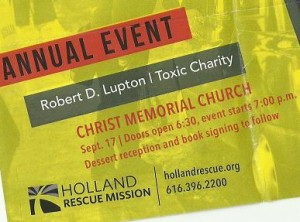 Boy was I given some food for thought last night. Well, actually it was really just thought since I couldn't stay long enough for the free desserts! Shoulda planned that better. I attended an exciting, sobering, motivating, and though-provoking seminar given by Robert Lupton, author of "Toxic Charity" and a Christian urban activist over the last 40 or so years who shared from his own failures, successes, and experiences what truly alleviates problems in the inner city over the long haul and what doesn't.
Many out there know that I love to figure out how best to engage a problem, especially in the realm of effective charity. I'm still wading deep through my learning curve, but what was so shocking and exciting at the same time is how many other individuals, churches, organizations are too, not to mention our government! Yes, so many common approaches to aiding others are ineffective—and occasionally detrimental—but what's exciting is that the desire to aid others is still very present and the strategy is easily altered to become effective. How, you say? To start, simply ask where your family's or church's approach to charity can embrace these simple concepts:
1. Consider people to have capacity, not needs. As was repeatedly stated last night, "Never do for someone what they have the capacity to do for themselves." Give them the dignity and pride of contributing to their aid.
2. Focus on exchanging, not giving. Virtually every human has something to offer the world. Foster the use of their talents and experience in exchange for aid they can't produce rather than repressing their gifts by always having to demonstrate your own.
3. Only offer handouts in one-time crisis situations, such as natural disasters or emergent life events. Only give what's immediately necessary at the time and only after investigating the recipients to assess true need. For all remaining needs, see #1 and #2.
4. For large group activities or missions trips, let the recipient community identify the needs the project is to provide and offer whatever finances and personnel they can provide for the project before providing outside strategy and funds. Then during the project, let them supervise and share their stories as often as possible.
My mind's buzzing with ideas, and I hope yours is too! Happy helping and halting hurting!