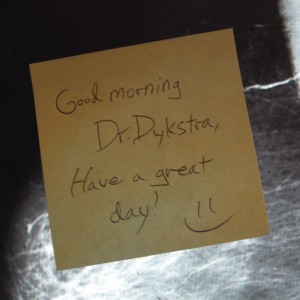 It's Friday morning four years ago, and I'm walking into work knowing that I have a massive stack of X-rays to interpret just waiting to start my day off in all the wrong ways. My partner had warned me about Fridays at this particular site, claiming I'd have to "gird my loins" and "read a lot faster" than I already do to make my way through it. Awesome. Sure enough, the piles of patient jackets were foreboding, but there was something on top of them I didn't expect: a little post-it note that simply said, "Good morning Dr. Dykstra! Have a great day! :)"
And that's how I met Tina Sturgis. Essentially every day she worked, I'd find a little note on top of however large a pile I'd have to tackle saying something positive or encouraging. Just because. She didn't know me at first, she didn't always walk into a wonderful day of work either, but she sure went through a lot of post-it notes! Now if you know me well, you know I'm not the "get-all-warm-and-fuzzy-inside-'cuz-someone-left-a-smiley-face" kinda guy. But even the most crotchety radiologist (OK, I'm not that bad!) would admit that this little thing—but consistent, kind thing—made my work days much better and made me value Tina much more.
I no longer work with Tina, but largely because of the little things she did that mattered, we have a greater friendship now than we did when she left. We have been able to help each other in various ways (most recently her support for Healing Hereafter—thanks!) and appreciate each other all the more for it. Tina, this one's for you! To the rest of you, who has done consistent or kind little things for you that you can't deny have made your day, week, or life that much better! Heal their hereafter with a little gratitude today!
As an extra thanks to those who have done something special for me, I like to share a cause or organization that is important to them. Tina is passionate about supporting those who have lost loved ones through suicide. She especially values SOS in Zeeland, MI, which provides support for those enduring such a difficult journey. I can't imagine how deeply that must affect people, so thanks Tina for reminding us!