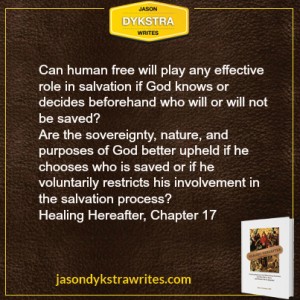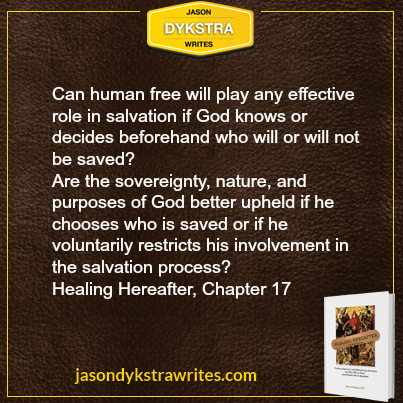 Chances are you've heard them, or maybe you've even asked them. The sometimes silly and sometimes serious questions about God like, "Can he make a burrito so hot he can't eat it?" or "If he can do everything, how come he can't sin?" Often these inquiries concern the sovereignty of God and how occasionally his unlimited abilities seem to be precisely what limit him. Unless you're really passionate about spicy Mexican food (and I gotta admit I kinda am), such questions are typically frivolous or even nonsensical, but not always. In fact, when one considers how God's sovereignty could possibly coexist with human free will-especially as it applies to whether or not each of us is saved-the ramifications are incredibly significant!
Is there any way for God to predestine people to heaven or hell while giving human free will any meaningful role? Can he even foreknow what they will choose without predestining it? If so, how does truly free and unpredictable choice not invalidate this foreknowledge with every new decision? If not, does that diminish God's sovereignty? Are there times when limiting oneself actually preserves and increases one's sovereignty compared to keeping oneself limitless, such as choosing not to look at the sun to preserve my eyesight or not to stroll into traffic to preserve my ability to walk? Chapter 17 of Healing Hereafter seeks to discover the set of circumstances in which God is most sovereign. Not only do we confirm that "less" can be more, we also find some very helpful answers to really tough questions along the way. Feel free to start with the chapter summary below…
Chapter 17
Many believe that God—not humans—decides even before we are created
who is saved and consequently who is not. Therefore, we examine exactly what God does decide is going to happen before it does and if such predestination affects our eternal destination. We start by thoroughly demonstrating how it is not possible for even a time-transcending God to either predestine or foreknow our salvation decisions while still allowing non-time-transcending humans to freely choose. As soon as truly free will is introduced, even God's foreknowledge of these decisions is no longer reliable, as humans can alter their choices at any time, independent of any outside influence or foreknowledge. And if they can't, then they don't have free will. We learn why God either must directly or indirectly force free-willed humans to be saved or unsaved, or he must leave that decision to them, setting aside any foreknowledge of which way they will choose. We conclude that God does the latter because it makes a lot more sense, but also because he would otherwise be forced to abandon his stated purpose in creating humans, openly lie to us several times, and violate his just nature. We ask how God can be sovereign while limiting his omniscience, but then we discover numerous biblical passages where he does exactly that—not to mention the extensive limits he places on himself as Jesus. We realize that the completely voluntary, self-imposed restriction of his foreknowledge of our response to the gospel maintains—not diminishes—his sovereignty, because it allows him to keep his purpose intact, his integrity intact, and his very nature intact.