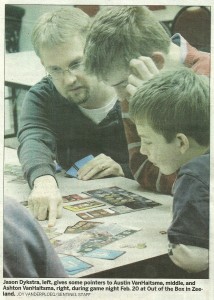 I am now officially famous! Having achieved inclusion in a full-size picture and its caption in an issue of The Holland Sentinel, I have been immortalized in the sacred West Michigan lore. OK, what really happened is me showing up at a local store to play some games and accidentally getting in the way of the camerawoman. I enjoy a good contest of wits every now and then, and there I am explaining the rules of a strategy game to some young 'uns. You can see I take it seriously, but for good reason. Just as in any other contest—whether physical or mental—if the rules aren't spelled out or can change at the whim of any player, the game becomes at best a waste of time and at worst a confusing source of anger and frustration.
That's precisely why we have rules in any situation: to provide an authoritative, unchanging, written description of a game, discipline, or belief system. Far more than do's and don't's, they are literally the identity of whatever entity they explain, and without them, that entity ceases to have meaning. For example, how can anyone meaningfully or enjoyably play basketball if one person feels the rim should be 12 feet tall, another thinks the ball should be the size of an apple, an a third desires each basket to be worth nine points? It can't, henceforth there are rules, which brings refreshment instead of rancor to such recreation. True, there are always slight variations in how these rules can be interpreted, but all interpreters must use the whole rulebook—not just the parts they like—to come to a respectful, rational conclusion. An apple-sized ball can always be thrown through a 12 foot rim for nine points, but not under the name of basketball.
Christianity also has a rulebook, and it also exists to provide an authoritative, unchanging, written description of what the Christian God considers to be necessary for us to know about him and the reality around us. There are also slightly different ways to interpret this Bible when it is taken as a whole. However, when only some verses are highlighted at the expense of others or when external opinions usurp those of the rulebook, the resultant inconsistent and contradictory fragmentation of whatever Jack or Jill wants to believe becomes nothing more than Jackism or Jillism, and the name "Christianity" becomes indefinable, very confusing, and utterly meaningless. The Bible is there for us to know how Christianity is different than what we would come up with on our own. It is there to distinguish the Christian God's opinion from ours. And as we might expect from a good, loving God who wants to communicate himself to humankind, seeking to understand Christianity through the lens of everything the Bible says—but also only what the Bible says—unveils a rational and refreshing divine plan that is neither frustrating nor a waste of time. There are rules, and then there is refreshment, and I invite you in my book Healing Hereafter to be refreshed—even when it seems impossible—by the Bible and Christianity.