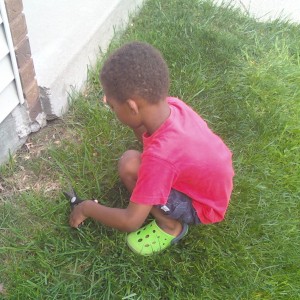 There he goes, that little guy, just snipping away for a good hour or more! Every time I mow the lawn, he asks to come help. Now usually this means he gets out his toy mower and "perfects" what daddy already mowed, which also keeps him out of harm's way. But last time he asked for a pair of scissors so he could really cut the grass…he's finally figured out that his mower is somewhat of a dud. And whoa child, did he ever cut that grass; it's like I hired a herd of cattle to graze for three days! OK not really, more like a square foot or so, lovingly shaved. Yep, he was doing things the hard way-painstaking, slow, and kinda pointless in the end. No matter how much he enjoys it or how dedicated he is, not understanding the task or considering the most fruitful way to do it ahead of time will keep him from completing it as intended.
Even as I type this, examples of my own haste and misunderstanding come to mind. For me, doing things the hard way often consists of wanting to get something done so fast that I impatiently skip steps or take damaging shortcuts. Maybe for you it looks different. But for seemingly all of us, there seems to be one task that is frequently done the hard way: pursuing God. Granted, part of it is that we just don't have a lot of experience building a relationship with a person we can't see or hear. But much of it is that we simply don't truly see this task as building a relationship at all. We might say that we do or even think that we do, but the way we go about it demonstrates that we don't.
For example, perhaps you aspire to spend some quiet time with God regularly, but that encounter is defined by reading a rather random chapter of the Bible and then abruptly stopping, or something similar. As dedicated as you might be to it (and reading the Bible certainly is an admirable practice!), do we put such a manufactured, fixed time limit on a 1-on-1 gathering with anyone else? Do we stop someone in mid-thought or even mid-sentence (as some biblical chapters end) and say, "Time's up!"? Of course not. Or perhaps it's not how long we spend with God, it's our motive during that time. I fully admit sometimes thinking of being with God as nothing more than an item on my checklist-for-good-Christians. Bible reading today? Check. Prayer? Check. Who's left unmentioned in my self-accomplished spirituality? God! Inevitably, seeking God these and other hard ways leave us frustrated because the task becomes something other than actually seeking God.
So what is the solution? Well, very simply, it's seeking God by pursuing him like any other relationship. First, realize that your time in prayer or learning what God has to say is a relational time, not a job. Think about what you hope to chat about before you do, recalibrating your mind for socializing, not business. Second, when you sit down to absorb his words, don't stop until you can identify precisely how you know him better, or keep listening until any specific reason for engaging in the conversation has been fulfilled. It may take two minutes or an hour, just like it does with any other relationship. Third, understand that you're not just getting to know God-as if that were small potatoes-you're fulfilling your very purpose and demonstrating your desire for heaven. God created us to seek and find him (Acts 17:26-27), and he offers us a heaven centered around finishing that task in perfect community with him (Revelation 21:1-7)! When you seek him the easy way, you not only know exactly why and how your relationship with God improved, you know you want to pursue and are pursuing the heavenly discovery of God you were created for. And that's the easiest way-not the hardest-to keep you coming back for more!
Further explore your purpose, God's heaven, and how they answer so many of our difficult questions about him in the free book Healing Hereafter here!