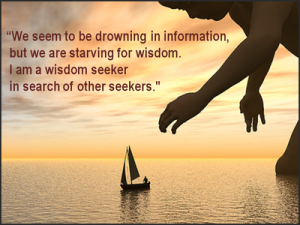 If there's one thing I've learned, as likely you have also, it's that knowledge and wisdom don't necessarily correlate. I've seen the most biased, unsupportable claims preached by the academic and heard the most enduring, practical truths casually slip from the mouths of children…sometimes with a little drool or leftover lunch in tow. Given that wisdom seems to often crop up in the most unexpected places-God seems to like it that way so we know it's ultimately from him-I've searched back throughout my life to identify some sagacious sayings that I've found to be simple, yet very reliable and powerful. What do you think?
"I consider everything a loss compared to the surpassing greatness of knowing Christ Jesus my Lord."
-Philippians 3:8
God tells us he created us to commune with him forever (Acts 17:26-27), ever increases that intimacy through biblical history, and promises to finally, fully accomplish it with the marriage of himself to the church in heaven. What could be more wise than to embrace our purpose and increasingly know God?
"An ounce of prevention is worth a pound of cure."
-Benjamin Franklin
Obviously, this is true in my field of healthcare, where cures are unbelievably expensive and often not effective. But anytime you can prevent badness instead of trying to fix it, you are wise.
"Some praise Jesus for being tolerant, yet his beliefs were never altered by society, political pressure, or personal experiences. Some laud him for being progressive, but his own words and divinity upheld God's/his Old Testament moral law. Some assume him to be non-confrontational, yet even in his most tender and compassionate moments, he continually exposed sin and preached repentance.
Jesus loves his truth and people equally, because he knows he can't do one without the other. Neither can those who claim to follow him, right?"
-Anonymous
This one speaks for itself, and I like that it has convicted me enough to hopefully follow him better.
"If you want a thing done well, do it yourself."
-Napoleon Bonaparte
Maybe it's better stated, "If you care about something being done well more than others, do it yourself." This might seem cynical, but no one can deny that even trustworthy people don't care about what you care about more than you. I can't tell you how often I've benefited from this truth.
"If your god never disagrees with you, you might just be worshiping an idealized version of yourself."
-Tim Keller (Click to tweet)
I'm not God, you're not God, and any sentient being other than me will eventually cross me. Will I let God be God when that happens, or will I aspire to be God instead?
"The greatest day in your life and mine is when we take total responsibility for our attitudes. That's the day we truly grow up."
-John C. Maxwell
Marriage taught me this, and I still am learning. Consider where you're wrong first, apologize first, and don't cast blame until you've done so. I would be wise to do this more.
"Too often we underestimate the power of a touch, a smile, a kind word, a listening ear, an honest compliment, or the smallest act of caring, all of which have the potential to turn a life around."
-Leo Buscaglia
I've had smiles make my day and careless compliments ruin it. You never know when you might be the thread someone's well-being hangs on.
"Life is ten percent what happens to you and ninety percent how you respond to it."
-Lou Holtz
We may as well optimize what we can control, right?
"No one cares how much you know, until they know how much you care."
-Teddy Roosevelt (Click to tweet)
Especially if you want them to actually remember and use what you know. This one has been very humbling but very useful to me.

"The Lord gives wisdom, and from his mouth come knowledge and understanding."
-Proverbs 2:6
Well duh, he knows everything that has contributed to my past, everything that is contributing to my present, and everything that is best for my future. No one else does, especially not me. Where better to turn for the wisdom of the ages?
Even considering life's most difficult questions, I have found it astonishing how wisely and sensibly God answers them in his word once you immerse yourself enough in it. Not convinced? Let's explore more in my free ebook series Healing Hereafter. Download instantly here! Oh, and I'd love to hear your wisdom of the ages too, as I've no doubt I could benefit! 🙂