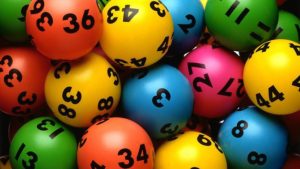 It's true. As a kid I was always enthralled with the spinning wheel of lotto balls that eventually allowed enough to escape into the heavenly row determining the winning sequence. I'm sure Mavis Wanczyk is too, considering she won the biggest single-ticket haul in North American history of $758 million just yesterday! But I didn't care about money or the millions simultaneously glued to their TV and ticket; I just liked watching those little balls bounce around haphazardly until the lucky few were randomly chosen to become THE balls. Fate by fluke. Opportunity by odds. The few happen to win; the many happen to lose.
Interestingly, Christians often consider the fate of humanity to be very similar, even without knowing it. When asked about the destiny of people who do not or cannot get access to God's solution of Jesus, one of the most common responses is hell. They are imperfect people, they were haphazardly born into a situation that didn't offer meaningful access to the gospel, they didn't accept the gospel, so hell is the only place they can go, right? Well, I find it interesting that the only folks who suggest this rationale do have access to the gospel, but I also respect the way it motivates many of them to genuinely share God's solution with others. However, is fate by fluke really the way billions of souls find themselves in hell? Kind of like those lottery balls, is our opportunity to get to a heavenly destination decided only by our odds of access to the gospel?
The beautiful, biblical answer is NO! God's plan for us depends on much more than chance, and it gives all of us a fair choice (Click to tweet!). When you explore everything his words say about those who can't get to his solution here, you'll be fascinated to find that his way to enjoy the greatest jackpot ever is equal opportunity for all! There's a lotto exciting reasons why, and you'll find them in Healing Hereafter. It's free and just two clicks away right here (see Booklet 3 in particular).
Best of luck today…and maybe call Mavis to make a new friend. 🙂